Enhance the flavors in this Veggie Dip with Greek Cream Cheese & Herbs by using a spice grinder to reduce dried herbs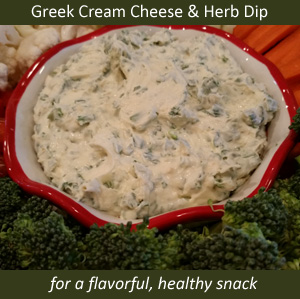 and spices to a powder. I cleaned out a seldom-used electric coffee grinder and loaded it with minced onion and garlic powder and added them to this dip. If you don't have a grinder, then you might want to mix this recipe up the day before so the flavors have time to be absorbed. A grinder is mainly for dry ingredients, and I would recommend chopping the fresh herbs with a sharp knife or in a food processor.
Greek Cream Cheese is a new product (to me) and I found the taste of it to be about the same as traditional cream cheese. It also has half the fat and calories as traditional cream cheese. If you don't tell anyone, chances are they won't know the difference, especially in this dip.
RECIPE
Place one package (8 oz) of whipped Greek Cream Cheese or traditional cream cheese in a medium sized mixing bowl.
Grind together and add to cream cheese:
1 Tablespoon minced onion
½ Teaspoon garlic powder
Finely chop and add to cream cheese: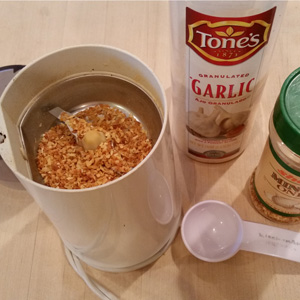 1 Cup chopped chives (if dried, then reduce amount &  grind instead of chopping)
¼ Cup fresh chopped parsley (again, reduce amount and grind if you use dried parsley)
Mix herbs and cream cheese well and place in a serving dish. The mixture will be stiff – easy dipping for veggies or spreading on crackers but not so easy for delicate chips.
Refrigerate for an hour or two. This can be served immediately, but it tastes better if it has had a chance to sit for a few hours, or if you do not use a grinder, let sit overnight.
Other options:  Add half a package of frozen spinach, thawed and liquid squeezed out, a can of chopped artichokes, chopped olives – either ripe or green, a can of water chestnuts or pimentos, and/or other veggies or herbs of your choice.
*Nutrition Notes
In an 8 oz. package of Cream Cheese with Greek Yogurt compared to traditional cream cheese, the Greek has 45 calories per serving and thee traditional cream cheese has 80 calories. The Greek has 3 grams of protein, traditional has 2.  Greek, 20 grams of fat; traditional, 70.