Frequently Asked Questions
How should I place a warmer into my microwave, especially the extra large back warmer?
Place the warmer in the middle of the microwave, making sure that it does not touch the sides or door of the microwave. (Some microwaves have a rotating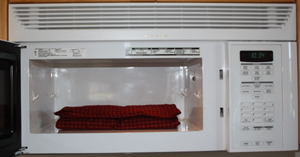 turntable. This is fine, as long as the warmer does not touch the sides or door when rotating.) For extra large back warmers we recommend folding into thirds, as shown in the photo. We also recommend that your microwave is clean and free of grease or other food debris, so the warmer does not become soiled.  If you use your microwave regularly for cooking, or have a busy household with many microwave users, it's bound to get dirty.  Fear not!  Simply place your warmer on a clean microwave safe dish to prevent the warmer from picking up any food or grease.
How long will my Maine Warmer last?
Your warmer should last for years with normal use and care. The corn filling lasts for a long time retaining its form and mild popcorn-like smell. Because corn is an organic product we recommend either microwaving or freezing within six months of purchase to keep the corn free of any natural organisms.
Can I use the same product for an ice pack as well as a heating pad?
Yes. Maine Warmers can be frozen and used as ice packs as well as heating pads. They are as gentle as they are versatile. Place in the freezer for a few hours then place on the affected area. A plastic bag may protect it from becoming soiled while in the freezer. Enjoy a gentle cold that isn't harsh like ice cubes - without the mess of melting ice. If you keep a Maine Warmer in the freezer all of the time you'll have instant relief for burns, bumps, & bruises.
Shipping options include UPS, US Priority Mail or "Customer Pick-up" in Scarborough, Maine. Customer pick-up orders must be placed by phone, not through our website.  When you call to place the order we will give you instructions for time and place of pick-up.
Free shipping on orders of $100 or more.
With a few exceptions for holidays, we ship orders on the next business day. Please provide a street address for UPS deliveries.
We'll include a gift card with your message at no extra charge.
Yes. If you are not satisfied with your Maine Warmer or the service you received please contact us within 30 days by phone or US Mail to make arrangements for return or exchange. We will refund the cost of the product.
How may I purchase a Maine Warmer?
You may purchase Maine Warmers on this Web site, by calling us (207-883-2322), or you may check our Retail page to find a store near you that sells our products. Online ordering is convenient and secure with Master Card/Visa, Discover, or PayPal. To be accepted, credit cards must be from a US Card Issuing Bank. We accept credit card orders over the phone and we'll get back to you ASAP if we are not able to answer your call in person. We respect your privacy and do not share your information.
If you prefer, you may mail your order with a note stating what item you want, the billing and shipping address, and a check or money order. Please call beforehand for a shipping amount. If you have questions or comments you may e-mail, call (Monday - Friday 8 AM to 5 PM Eastern Time), or write to us.
Are Maine Warmers' heating pads washable?
All of our products have removable covers that may be machine washed and dried. A Velcro closure allows the cover to be removed and laundered and the filling to be removed if the lining ever needs washing.
Yes. There is an inside cotton cloth lining holding the filling. This provides an extra layer of fabric between your skin and the corn making the product more comfortable and to help retain the heat and cold longer. More info
No. The corn filled heating pads don't need added fragrances to smell good all the time. Rice filled heating pads may have added fragrances to cover the peculiar odor of the rice after it has been heated several times. Many people have allergies to fragrances which can cause migraine headaches. We want people with allergies to enjoy the benefits of our heating pads and ice packs.
Our products are filled with whole corn which is grown as cattle feed and not as popping corn. Popcorn has a hard outer shell that causes pressure to build up inside when heated and then suddenly explode. You won't have a cloth bag full of popcorn after heating our Maine Warmers, but it sure will smell like a bowl of freshly popped corn! Dogs and cats may chew through the fabric of a "Warmer" thinking they have found a snack. Mice love whole corn!
How long should I microwave my Maine Warmer?
All of our products come with instructions for microwave use, printed on a small card.  Keep this card handy near your microwave -- perhaps taped inside a cabinet door or in the "junk" drawer.  Microwave for about one and one-half minutes depending on the power of your microwave and the size of the warmer. Increase or decrease the time by 30 seconds if needed. Adjust heating times according to your needs. It is possible to overheat and burn the corn. It is also possible to heat the warmer too much and burn the skin. Please be careful. Products filled with less corn will need less time to heat.
Not found the answer?
feel free to contact our customer service for free support
888-835-7485