How Maine Warmers Work
All of our products have dual functionality.  They can be microwaved for use as heating pads and they can be frozen for use as ice packs.  Detailed instructions are included with your purchase, but here are the basics:
To use as a heating pad, microwave for approximately 1 1/2 minutes, depending on the size of the product and your microwave.
To use as a cold pack, place in the freezer for a few hours.  Place in a plastic bag to protect it from becoming soiled while in the freezer.
Corn Filling
We fill our products with whole corn — a natural substance and not popping corn. The corn we use has been dried 70% and retains some moisture when we have them made and shipped to you. When you first heat it in the microwave, for about a minute and a half, the corn expels moisture — thus providing "moist heat." Your "Warmer" may feel wet at first. To use it while it is wet we recommend wrapping it in a terry towel. After heating and using it a few times, the corn will dry. If placed in a moist area, it may reabsorb some of the moisture from the air, but it will probably not feel as wet as the first time it was microwaved. Some of our customers have told us that they like the moist heat and spritz their "Warmers" to keep them that way.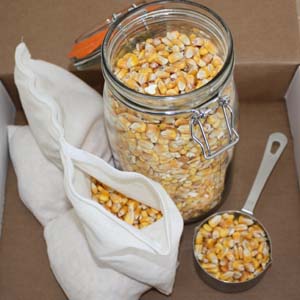 Whole corn heats and stays warm about the same length of time as rice or dried bean filled heating pads. One advantage of whole corn over rice or dried bean filling is that the corn does not take on a peculiar odor after it is microwaved several times. Rice filled heating pads often have added fragrances to cover the unpleasant smell that occurs after repeated heating. Also, corn goes from freezer to microwave and back to freezer without breaking down, which makes our "warmers" versatile. Depending on your needs, you choose whether to heat or freeze!
Inserts
All of our products have cotton liner inserts that hold the filling. Inserts may be removed so the covers can be washed when necessary. Most of our warmer inserts have sewn-in baffles to distribute the filling evenly.
Under normal circumstances, the corn filling should not have to be replaced, and it should last for years. If something spills on it, the corn may be emptied from the liner, rinsed in clear water, laid out to dry, then reinserted into the lining through the Velcro opening. No sewing is required.
Cautionary Notes:
Mice love whole corn. If mice have access to your Maine Warmer, as in camps and summer or winter cottages, you may want to store your Maine Warmer in a plastic bag in the freezer when not in use. Then it will be ready if you need cold therapy in a hurry. It will go from the freezer to the microwave and back repeatedly, if need be.
Some dogs will snack on whole corn, thinking it is popcorn. Our customers tell us that their pet dogs and cats love to curl up with a Maine Warmer and enjoy the heat. Pets suffer from cold and arthritis, too.
Do not store your Maine Warmer in a plastic bag outside of the freezer. It might become moldy.
Inserts Without Corn Filling
We will also sell these without the corn filling. Customs' regulations in many countries outside the US do not allow importation of whole corn. So we have designed our products with removable covers and inserts to be easily filled by you — without having to sew them. Please see our "Fill-Your-Own" page for more information about purchasing.
To Purchase Inserts
Please call or email us to order if you want to replace an insert, a cover, or purchase a Maine Warmer without the filling.
888-835-7485
For more information, please visit our FAQ Page (Frequently Asked Questions).