Fill Your Own Warmers
Countries outside the U.S. do not allow the importation of whole corn — the filling in our Warmers.
We can ship Warmers without the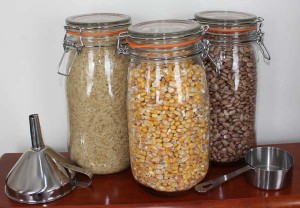 filling, and you may easily fill them with either whole corn, white rice, or dried beans. No sewing! Rice and dried beans may be purchased at a local market, and whole corn may be purchased at feed stores or places where bird or pet food is sold. Do not use popping corn.
Each Maine Warmer is carefully made with a cloth cover that has a Velcro opening. A removable, segmented insert inside may be filled with your choice of filling.
We discount unfilled Warmers. Save $2 on each "Fill-Your-Own" Maine Warmer. (Currently, Sheep are offered as Fill-Your-Own for domestic web orders only.)  All other Fill-Your-Own products and International orders must be placed by phone at 888-835-7485.
Save on shipping costs
Beyond saving $2 per item, the cost of lighter weight shipping will be significantly less. Maine Warmers filled with corn weigh from 2 – 4 pounds (.9 – 1.8 kg).  Without the filling, they weigh only a few ounces, saving you dollars in shipping, especially if you have them sent west of the Mississippi River or outside the U.S. Our products are made in and shipped from Maine.
When you order two or more items the shipping amount remains low or even the same.
Questions or requests for shipping quotes? Please contact us via email at info@www.mainewarmers.com or by phone at 888-835-7485. We'll be happy to help. Please include the items you want, your name, and the Postal Code of the person receiving the order.
Filling Information
Corn, rice and dried beans are about the same in volume and weight and have similar heating properties. Heating time in the microwave, temperature of the filling, and heat retention are similar. One major difference is that whole corn lasts longer, while rice and beans tend to break down and may need to be replaced frequently.
Whole Corn
Whole corn is often available at feed or pet supply stores. Again, do not use popping corn. Corn maintains a mild aroma of a freshly popped bowl of popcorn and may be  microwaved or frozen over and over again.  Whole corn will last for years without needing to be replaced. If you live in a major city there may or may not be a feed store near you.
Rice
Rice is available in grocery stores. It may take on a peculiar odor after being microwaved or frozen. Lavender and other fragrances can be added for your enjoyment and/or to cover any unpleasant smell. The rice can be replaced as needed at a relatively low cost.
Dried Beans
Dried beans are available in grocery stores and farmers markets. They may take on a peculiar odor after being microwaved or frozen. The beans can be replaced as needed at a relatively low cost.