I recently cleaned out my recipe box, and though I haven't made it for decades, I could not bear to part with this wonderful recipe. This is a hearty winter dish, and if you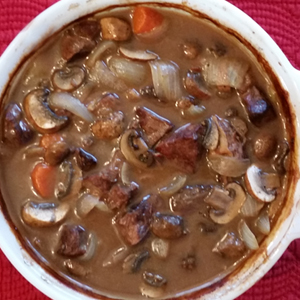 use grass-fed beef, all the better. I've never tried making it with chicken, but it might be an experiment for the New Year.
Ingredients
¼ lb diced salt pork (or a couple of slices of bacon), fried until crisp, reserve drippings
2 lb lean beef trimmed of fat and cut in 2 inch cubes (I used NY sirloin, but the original recipe, taken from a magazine, called for chuck, rump, or round).
Sprinkle of salt & pepper
2 tablespoons rice flour
½ cup dry red wine
1 ½ cup water
1 carrot peeled & cut into 3 or 4 pieces
2 tablespoons of fresh, chopped parsley or 1 tablespoon dried
1 bay leaf
½ teaspoon of thyme
1 clove garlic chopped fine
2 small to medium onions, peeled and cut into bite-sized pieces, or 1 jar or canned
½ pound fresh sliced mushrooms or 1, 8 oz canned mushrooms
In the drippings brown the beef on all sides (Fry a few pieces at a time so they brown up nicely, and then place in a casserole dish.)
Mix the salt and pepper with flour and sprinkle over the beef. Toss to coat evenly.
To the frying pan add:  wine, water, carrot, parsley, bay leaf, thyme, and garlic and bring to a boil, stirring and loosening the browned remnants in the fry pan. Pour the hot liquid over the meat, cover, and bake at 350° F for 1 ½ – 2 hours. Add onions and mushrooms and cook 30 minutes longer.
Serves 6