Warm up with this easy to make one pot simple supper when your schedule is tight and you are hungry for something hearty and nutritious. No need to add spices or herbs as they are already in the sausage.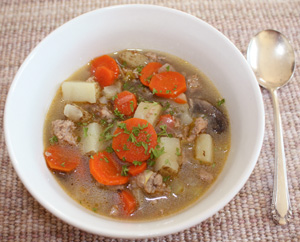 In a medium sized pot, sauté until onions are soft and sausage is cooked:
2 – 3 tablespoons olive oil
1 small onion, peeled and coarsely chopped
2 stalks celery, cut into small pieces or coarsely chopped
4 -5 links of sweet Italian Turkey Sausage, squeezed out of casing and broken up (Check to make sure the brand you buy is gluten-free).
6-8 fresh mushrooms, sliced (optional)
Add and bring to a boil over high heat:
1 quart of hearty chicken or turkey broth (unsalted and gluten-free)
2 medium potatoes washed and cut into bit sized pieces
3 carrots peeled and cut into thin rounds
Cook until carrots and potatoes are soft but not mushy, about 10 minutes on medium heat.
Sprinkle with a little dried or fresh parsley.
Serve with whole fresh fruit or a green salad if you have the time and energy to make one!