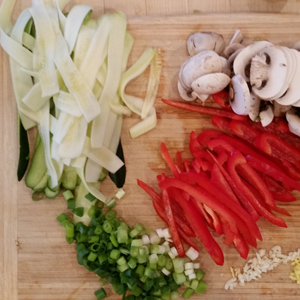 I saw this Shrimp and Zucchini Noodle Stir-fry recipe on a Facebook video last summer and it looked yummy. I never wrote it down until I made it for this newsletter. Each time I made it my husband raved about it. So, here it is – as best I recall. If you go to Facebook and search for zucchini noodles you will find similar recipes and a procedure for peeling the zucchini.
Ingredients
1 pound frozen or fresh raw shrimp, shelled, deveined, and dried  —  I generally use medium large shrimp, but for this photo I used the extra jumbo.
1 Zucchini – about 10 – 12 inches long & washed
1 orange or sweet red pepper
2-3 scallions (or a few slices of finely chopped onion)
2 Teaspoons of finely chopped fresh ginger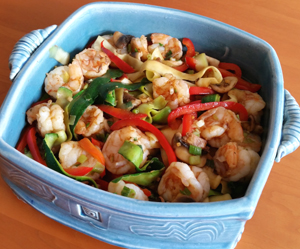 1 clove garlic (finely chopped)
2 Tablespoons olive oil
3- 4 fresh mushrooms, sliced thin
¼ cup fresh parsley (optional)
1 Tablespoon gluten-free soy sauce
Juice from one lemon
Is usually thaw the shrimp while I prepare the other ingredients.
With a potato peeler, peel strips of zucchini lengthwise from stem to base, creating noodle shaped strips. Work your way around the zucchini until you get to the tiny seeded section. I toss the center but put the unused top part in a salad, cut up of course.
Slice a red or orange sweet pepper and mushrooms in very thin slices. Cut scallions into small pieces.
When all veggies are ready, heat 2 tablespoons of olive oil in a fry pan. Add veggies and shrimp and stir fry vigorously on medium high heat just until the shrimp are cooked through – about 3 minutes. Remove from heat and add lemon juice and soy sauce. Serve with rice.