When summer's harvest provides us with an abundance of vegetables use them up in this tasty recipe. I like to keep frozen shrimp on hand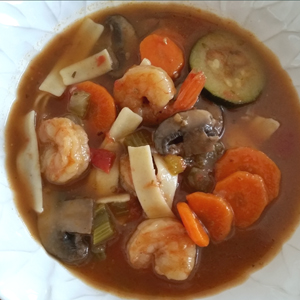 for quick meals  like this one. Other fish, cooked meat or beans can be substituted for the shrimp.
1 large onion, peeled & chopped
1 – 2 stalks celery, cut into small pieces
12 ounces sliced mushrooms
2 large carrots, peeled and sliced
1 clove garlic, chopped (optional)
1 cup chicken or veggie broth
¼ cup white or red wine (optional)
1 small to medium zucchini cut into bit sized pieces
4 – 5 medium to large tomatoes, cored and cut into bit sized pieces.
1 lb. frozen shrimp (or fresh)
Parmesan cheese as desired
Season with salt, pepper, and fresh chopped parsley.
Serves 4
Sauté onion and celery over medium heat until onion is limp. Add mushrooms and heat, stirring until slightly browned. Add carrots and garlic and stir fry for one minute, then add broth. Bring to a boil and cook carrots for 5 minutes, then add zucchini and tomatoes and cook for another 5 minutes until carrots are done. Add the frozen shrimp, and heat just until hot. Do not overcook the shrimp. If using fresh shrimp, cook for about 3 – 5 minutes.
Cook gluten-free noodles, following package instructions, just until tender. I cook just enough pasta for the number of servings I need. Gluten-free pasta tends to fall apart rapidly when stored in refrigerated liquids. So, if there are leftovers I cook more pasta to serve with them.