If you want to shed a few pounds, beware of the grocery store! We are tempted on every aisle – even in the produce section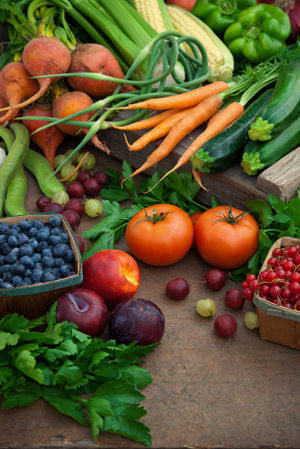 with shortcakes for strawberries in the summer, candied apples in September, and pie crusts during Thanksgiving to Christmas. When we get to the checkout, candy bars and small bags of Doritos call out to us and are within such handy reach.
Remember that these items are placed in stores to sell, not to help you lose weight and feel better, even though they may tout some health benefits.
Losing weight is harder than quitting nicotine. At the grocery store cigarettes are not in your face* like cookies, donuts, chips, and ice cream.
When you go to the grocery store keep these tips in mind.
Wear blinders – Avert your eyes and focus on the wholesome foods you know will make you feel better – colorful veggies, fruits, and whole grains.
The fewer times you go into the store the less you will be tempted. Plan ahead, write a list and stick to it.
Avoid processed foods and learn to cook with fresh foods, especially herbs that add lots of flavor to your meal.
Don't buy the chocolate chips and cake mixes that you can keep in your pantry. If you don't have them you won't consider making them.
Eat a healthy, satisfying snack or meal before you shop.  You'll have more will power in the cookie aisle.
Making just a few changes in your routine may help you feel and look better.
* Did you know that cigarettes used to be placed on lower shelves in grocery stores and in mom and pop stores tempting kids to steal them? Once hooked, the child became a buyer.