Living in Maine, Shepherd's Pie is a popular comfort food, perfect for a winter supper. When I moved here, I asked several friends for their recipes and did countless Google searches.  After many experiments and combinations, this version is my family's favorite. (I've included steps for a lower-sodium version, and can assure you the pie will still have plenty of flavor.)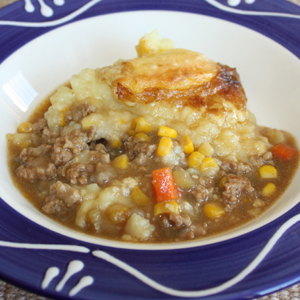 1 Vidalia onion, finely chopped
1 celery stalk, chopped
1 large carrot, chopped
2 cloves garlic, minced
olive oil
2 lbs. ground meat (I use a veal, pork, beef "meatloaf" mix but you can use ground turkey or ground beef)
1 tsp. curry powder
1 tsp. cumin
1 tsp. coriander
2 cups gluten-free beef broth (low sodium)
2 tbsp. cornstarch
3 tbsp. balsamic vinegar glaze
3 cups sweet corn (use frozen or fresh rather than canned for lower sodium)
6-8 yukon gold potatoes
1 cup whole milk
6 tbsp. butter (I always use Kate's Homemade, another Made in Maine product and the BEST butter on the market, I think! Or, use unsalted butter for lower sodium.)
kosher salt (omit for lower sodium)
cracked black pepper
2 cups shredded sharp cheddar cheese (for lower sodium, use fresh parmesan)
Preheat oven to 375 degrees.
Peel and cube potatoes and place in a large stock pot. Cover with water and boil until tender.
While potatoes are cooking, sauté onion, celery, carrot and garlic in another large stock pot with about 1 tbsp of olive oil until tender.  Add ground meat, stir and cook until no longer pink. Add curry powder, cumin, coriander and ½ tsp. salt (omit salt for lower sodium).  Pour in beef broth and bring to a low bowl.  Combine cornstarch with about ¼ cup water and slowly add to the pan, whisking the meat mixture until it thickens.  Turn off the heat and stir in the balsamic vinegar glaze.
Pour the meat mixture into a 9X13 baking dish and layer the corn on top.
When the potatoes are done, drain the water from the pot.  Add the milk and butter and mash until desired consistency.  Do you like your mashed potatoes smooth or lumpy? Taste the potatoes and add kosher salt and cracked pepper to your liking.
Cover the meat and corn completely with the mashed potatoes.  Sprinkle the shredded cheese on top.
Bake uncovered for 35 minutes or until bubbly and golden on top.