This Sesame Chicken Salad – Gluten-free – is a great dish to use up leftover chicken or turkey.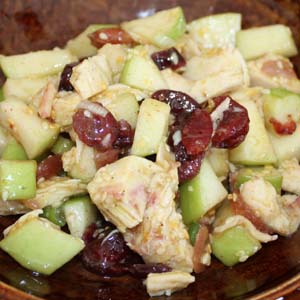 Ingredients
3 cups cubed chicken or turkey, cooked
1 Granny Smith apple, cored & cut into small or bite-sized pieces
½ cup dried cranberries or raisins
2 tablespoons sesame seeds or ¼ to ½ cup chopped walnuts
Optional:  2 scallions and or a stalk of chopped celery
Combine all ingredients in a bowl and mix well.  Add the dressing, pour over chicken mixture and stir until all ingredients are coated. Refrigerate for two hours and serve with a green salad.
Dressing
1/3 cup sesame oil
2 tablespoons white wine vinegar
1 – 2 tablespoons cranberry apple chutney