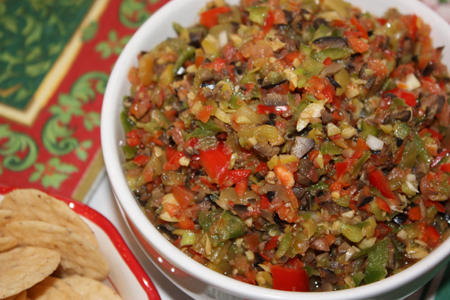 This is a great party dip with tortilla chips and even makes a nice accompaniment to a salad.
In a food processor chop and place in a large mixing bowl:
3 hard plum tomatoes (remove seeds if desired)
1 sweet red pepper
3 scallions (white and some tender green stalk)
1 small jar of pitted green, pimento stuffed olives
1 can pitted black ripe olives
1 small can chopped green chili peppers
Add:
Garlic powder to taste
1 tablespoon of cider vinegar
1 tablespoon olive oil
Mix thoroughly.  Refrigerate at least one hour before serving.