This soup can be spiced up or down according to your taste. Its bright color makes it fun to serve – any season – and fresh herbs make it extra special.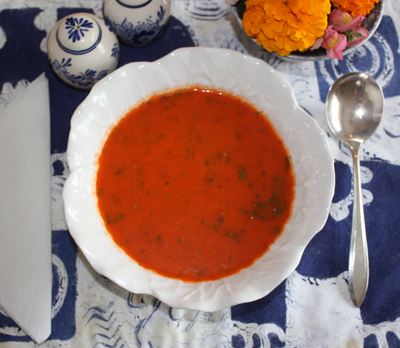 Combine in large bowl & mix well:
4 sweet red peppers (I used 3 large red sweet "Ancient" peppers)
2 carrots, peeled & sliced into bite sized pieces
1 large sweet onion (or 2 small)
2 cloves garlic (add more or less to your liking)
2 tablespoons olive oil
Salt to taste
Pour into shallow baking dish and bake at 425° for 35 – 40 minutes until veggies are soft.
Let cool and spoon into a blender.
Add:
2 cups chicken broth (Total broth needed is 1 quart).
½ teaspoon ground cumin
½ teaspoon paprika
Blend on high speed for about 30 seconds.
Pour into a medium sized sauce pan and add:
Remaining 2 cups chicken broth
1 can of black beans (drained & rinsed)
½ cup freshly chopped cilantro
¼ cup fresh parsley
1 teaspoon white vinegar
Salt & pepper to taste
Heat and serve.