This is one of my favorite cakes, and when I eliminated gluten from my diet I missed it. So, when I experimented with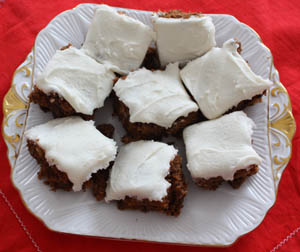 the recipe and found it tasted just as wonderful with gluten-free flours, I was elated! This recipe hasn't any eggs —  for those who are dairy-free as well. (Be sure to eliminate the frosting or substitute water for milk).
Recipe
Combine in sauce pan and heat to boiling. Reduce heat and simmer 2 minutes. Cool.
1 cup raisins
1 cup brown sugar (packed)
1 cup water
½ cup butter (1 stick)
1 teaspoon cinnamon
1 teaspoon nutmeg
1 teaspoon ground cloves
Sift:
½ cup white rice flour
½ cup sorghum flour
½ cup corn flour
½ teaspoon Xanthan  Gum (a binder)
¼ teaspoon salt
2/3 cup chopped walnuts (optional)
Combine flours with raisin mixture and stir until well mixed. Spoon into 9″ x  9″ square pan — greased.
Bake at 300° F. oven and bake for 50 to 60 minutes. Cool in pan. Frost with gluten free frosting.
Frosting
Mix until smooth and spread on cake when cool:
1 ½ cup confectionary sugar (GF)
2 – 3 tablespoons milk
1 teaspoon GF vanilla
¼ teaspoon white vinegar