This recipe was adapted from our Blueberry Kuchen recipe and, in our opinion, is the best alternative to pumpkin pie for those on a gluten-free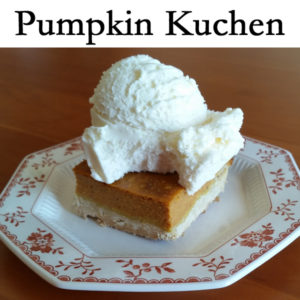 diet.
Combine in a medium-large bowl with a pastry cutter until it has the consistency of large crumbs:
1 stick butter (use coconut oil as an alternative)
3/4 cup oat flour (237 ml)
½ cup coconut flour (118 ml)
¼ cup tapioca flour (59 ml)
Sprinkle of salt
Pour into an 8 x 8 inch greased baking pan (or a similar size configuration). You can use a spring-form pan, but make sure to place it inside another pan when you bake it.
Pat it down until it is evenly pressed into the pan.
Mix in an electric mixer or beat vigorously by hand:
1 15 – 16 oz. can pumpkin (about 450 ml)
1 14 oz. can condensed milk  (about 415 ml)
2 eggs
½ Teaspoon of Cinnamon (.2 ml)
½ teaspoon ground ginger (.1 ml)
¼ teaspoon nutmeg (.05 ml)
1/8 teaspoon salt (.025 ml)
2 tablespoons molasses (optional) (.07 ml)
Pour into pan on top of flour mixture and spread evenly.
Bake at 350° for about 1 hour or until the top is set.
Serve with gluten-free vanilla frozen yogurt. My favorite is Kemps.  ®
Serves about 6 — warm or cold