These are a family favorite – especially this time of year. They make your whole house smell wonderful and welcoming to someone coming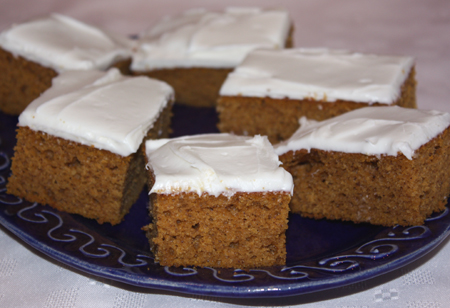 inside on a raw November day. The only difficulty with them is they are addicting.
Beat together:
 4 eggs
¾ cup of Canola oil
1 ½ cup sugar
2 cups of fresh pumpkin or 1 15 – 16 oz can of pumpkin
2 teaspoons cinnamon
¾ teaspoon each of nutmeg, cloves,&  ginger
 Sift together then add to the mixture above:
2 cups gluten-free all purpose flour (I use Bob's Red Mill, or a mixture of ½ cup brown rice flour, ½ cup corn flour, ½ cup sorghum flour, ½ cup garbanzo bean flour)
2 teaspoons baking powder (gluten-free)
1 teaspoon baking soda
1 teaspoon Xanthan Gum (Four eggs have great binding power so this ingredient is optional in this recipe).
 Mix well.
 Grease bottom of a 15" x 10" x 3" baking pan. Pour batter into pan and bake at 350 F for 30 minutes.  Cool on a rack.  
 Frost with cream cheese frosting or sprinkle with confectioner's sugar.