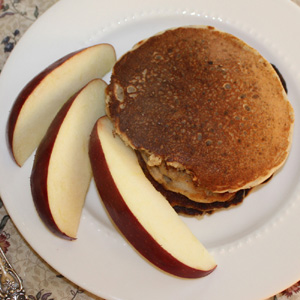 If I had paid more attention in chemistry class, maybe I would have a better sense of what gluten-free foods have strong binding qualities.  After two years of experimenting with gluten-free pancakes, I finally discovered that oat flour holds together well and eliminates the gritty texture that is present in rice flours or the after-taste of quinoa or millet flours.
I add one quarter to one half a cup of tapioca starch which also has good bonding qualities. Coconut flour is sweet and softens the batter.
In a large mixing bowl whisk with a fork until well mixed and almost frothy:
3 Tablespoons Canola oil
2 Eggs
Add and stir until well combined:
1 and a half cups milk (any kind – from fat free to whole to soy milk) I add about 2 – 2 ½ cups of milk as for thinner, faster cooking pancakes.
In a medium bowl mix well:
1  Cup gluten-free oat flour
½  Cup Tapioca starch
½  Cup Coconut flour
½  Cup Flaxseed meal
1  Teaspoon baking powder
½  Teaspoon baking soda
½  Teaspoon cinnamon
Add dry ingredients to the eggs & milk mixture and stir well. The batter will be a bit lumpy which is normal. Add more milk for thinner pancakes. Add a cup of blueberries, chopped apple, or mashed banana if you like. At ht e request of my grandson I added one ripe mashed banana to the batter once it was mixed.
Heat a fry pan on high and spray with cooking oil or add a tablespoon of oil to the pan and heat until the oil is hot. Lower the temperature to medium low.
Spoon about 1/8 of a cup (more of less) of the mixture into the pan to make one pancake. Lower heat and cook until the batter is set and the bottom side of the pancake is browned. Flip and cook until the second side is browned as well. Makes about 18 pancakes or enough to feed four with hearty appetites.
Serve with your favorite topping. I happen to like maple syrup, but a mixture of sautéed blueberries or chopped apples in butter with a little agave syrup is tasty and is a good substitute when one forgets to check the maple syrup supply before making the pancakes, and there are a bunch of hungry people waiting for breakfast.