This week's Palm Pack Hand Warmer giveaway will have not one, not two, but THREE winners!
We are giving away 3 pairs of Palm Packs (red, green, and navy).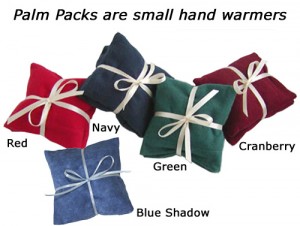 With record low temps, we have seen a rise in orders for Hand Warmers and Palm Packs, especially from the Mid West, so we decided to get our versatile Palm Packs out there to three lucky winners!  At 4″x4″ they fit inside inside large mittens and pockets, perfect for cold mornings at the bus stop, or walking the dog.  Inside, they are perfect for earaches, headaches and cold fingers.
The Palm Pack Giveaway will begin on Thursday, February 26th.
For a chance to win:
1. Go to the Maine Warmers Facebook page and "Follow" us and your name will go into the drawing twice.
2. Look for the Palm Packs Giveaway Post and hit "Share" and your name will go into the drawing again.
Winners will be announced Thursday, March 5th.
3-5-15 Congratulations to our 3 winners: Marilyn Legault, Carol Greenway and Laurie Jackson LaChance.