'Tis the season for cold hands, so we're having a Palm Pack Hand Warmer Giveaway!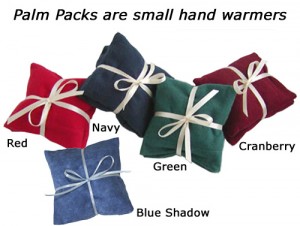 Every Fall we see a rise in orders for Hand Warmers and Palm Packs so we decided to get our versatile Palm Packs out there to a lucky winner!  At 4″x4″ they fit inside inside large mittens and pockets, perfect for cold mornings at the bus stop or walking the dog.  Inside, they are perfect for earaches, headaches and cold fingers.
The Palm Pack Giveaway will begin on Thursday, October 22nd.
For a chance to win:
1. Go to the Maine Warmers Facebook page and "Follow" us and your name will go into the drawing.
2. "Like" the Palm Packs Giveaway Post and  your name will go into the drawing again.
Winner will be announced Tuesday, October 27th.
Congratulations to Angela Lilly! 10-27-15