This is a perfect winter salad when navel oranges are ripe and you crave a lighter salad.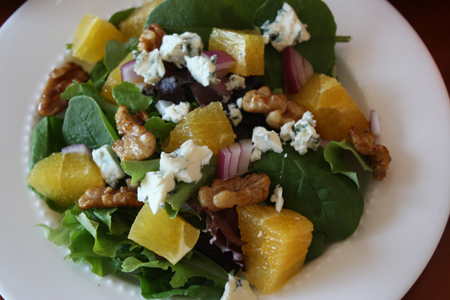 Mixed greens for two people – divide into two individual salad bowls.
Sprinkle with  1 – 2 slices of purple onion chopped or 1 scallion sliced
1 navel orange, peeled and cut into bite sized pieces
2 Tablespoons of sliced honey-glazed Walnuts (I sometimes use sliced Almonds)
Top with a sprinkle of Blue cheese or your favorite cheese & drizzle with balsamic vinegar or balsamic dressing.
To glaze Walnuts or Almonds
 1 Teaspoon canola oil
1 Teaspoon honey
2 Tablespoons walnuts or almonds
Heat the oil in a small fry pan.  Add honey and nuts and stir over medium high heat until almonds are covered with mixture and just begin to brown. Remove from heat and let cool in a small ceramic bowl.
Sprinkle over salad & drizzle with Balsamic vinegar or your favorite salad dressing.