This combination makes a sweet and light dessert, perfect for a winter dinner or as a side dish. Serve it as a salad with lunch or brunch. If you don't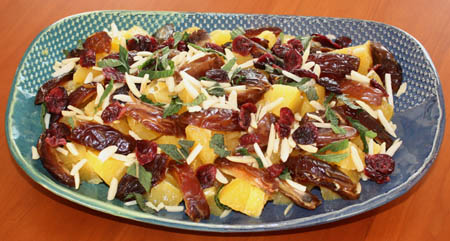 have dates you may substitute with other dried fruit.
 Serves 8
6 large navel oranges, skinned and cut into bite sized pieces
8 large dried dates – pitted and sliced
½ cup almonds (substitute walnuts, pecans, Macadamia nuts, or hazelnuts)
6 fresh mint leaves cut into slivers
½ cup dried cranberries
Layer and arrange cut oranges, dates, almonds, cranberries, and mint onto a platter or shallow bowl.
The original recipe came from THE ESSENTIAL MEDITERRANEAN COOKBOOK (Murdoch Books, Sydney, Australia) 2001