We all know someone with knee osteoarthritis (OA) — from injury, carrying extra weight, or genetics.  No matter what the cause, the result is pretty much the same – pain and limitations for leading an active life.
In the November/December 2014 issue of Arthritis Today, experts advise therapies that may help knee osteoarthritis.  "Losing excess weight and building more muscle are two things that the research shows can positively affect the course of knee osteoarthritis," says Neil Segal, MD, associate professor of orthopaedics and rehabilitation and director of the Clinical Osteoarthritis Research Program at the University of Iowa. Other suggested treatments include physical therapy, self management, acupuncture, and spa therapy.
Arthritis Today conducted a survey called "What Works" for easing arthritic knees.  They received responses from 334 members of the Arthritis Foundation Online Panel and the Arthritis Today  Reader Panel.  At Maine Warmers, we found the results interesting, especially the top one:
Hot or Cold Compress ~ 54%
Losing weight ~ 42%
Stretching ~ 36%
OTC rubs, gels or patches ~35%
Walking ~ 32%
Chances are, if you have knee pain, you have used hot or cold compresses.  Have you tried Maine Warmers' easy to use Mainely Ice Knee Wrap?  It comes with whole corn filling (which can be microwaved or frozen) or you can swap out the corn for a bag of frozen peas.  Both corn and peas comfortably conform to the knee much better than the gel packs sold in drug stores. Plus, they are less harsh than ice cubes and there's no mess from melting.
For a more versatile option, our traditional back and neck microwave heating pads easily drape over the knee and can be used to warm or chill other parts of the body, not just knees.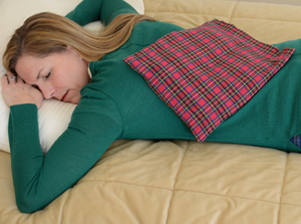 Our Comforting Creatures can also be used as hot and cold compresses, and might make you smile, too.