I think Jello salads went out with wired telephones.* Both are still great.  Remember the lime green Jello salad with mini-marshmallows that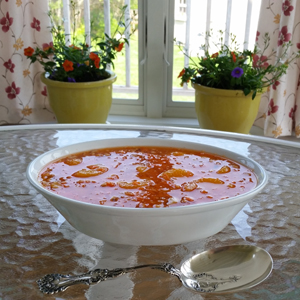 inevitably showed up at pot luck suppers? It was like dessert.
This recipe is not quite as decadent and it has plenty of redeeming qualities with the carrots, nuts and fruit.
In a large bowl, combine and stir for 2 minutes:
1  4 oz. package of Jello with 1 cup boiling water
Add 1 cup cold water, stir, and let cool in refrigerator about 1 hour until Jello begins to set.
To the Jello, add and gently stir until combined:
2 cups grated or finely chopped carrots (about 2 medium sized carrots)
6 oz. can of crushed pineapple, well drained (Do not use fresh or frozen pineapple as the Jello will not set).
12 oz can of Mandarin oranges well drained
½ – ¾ cup chopped walnuts
You can add other ingredients, but make sure to read the instructions on the package that tell what items will prevent the Jello from setting up.
A few of my favorites add-ins or substitutions are fresh, chopped apples, cranberries, and celery.
Return to the refrigerator for two hours until set. Serves 6 – 8
* Wired telephones have a sound quality that is superior to the wireless phones of today.