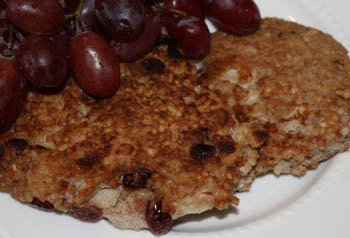 I recently cooked up some pearl millet and made two delicious recipes: breakfast pancakes and another pan-fried vegetable patty that makes a savory accompaniment to fish or chicken.
 Millet is a seed that is gleaned from tall grasses grown most predominantly in India, China, and Africa. According to Wikipedia, its protein value is about the same as wheat. According to HealthRecipes.com, millet is rich in vitamin B, folic acid, calcium, iron, potassium, magnesium, and zinc. In 1 cup of cooked millet there is 2.3 grams of dietary fiber.
Millet is not recommended for people with thyroid conditions, but it is gluten free!
Ingredients
2 cups cooked millet
To cook millet, place 1 cup pearl millet in sauce pan, add 2 ½ cups water. Bring to a boil, reduce heat and simmer for 25 minutes. Let cool & store in refrigerator until ready to use. Yields 3 to 4 cups.
2 eggs
1 apple, peeled, cored, and chopped
1 cup chopped walnuts
½ cup dried cranberries (or substitute raisins or cut up dried apricots)
½ teaspoon cinnamon
Pinch of salt
 Mix all ingredients in medium-large mixing bowl.
 Heat 2 tablespoons Canola oil in large fry pan. When oil is hot, reduce heat to medium-low. Drop about 1/3 cup of mixture into pan for each pancake. Flatten with spatula, and compact edges, bringing crumbs in to form a round or oval pancake. Cook about 5 – 6 minutes on each side, until browned and golden.
 Serve with maple syrup, your favorite jam and butter, and fresh fruit, if desired.