This is one of my favorite dishes any time of year. It's fast and easy to prepare, and on a night when I get home late I can fix this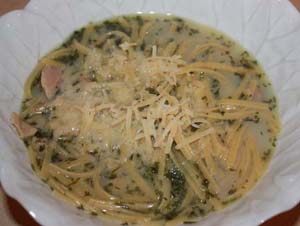 in about 20 minutes. Most of the ingredients are kept in the pantry with the exception of the grated Parmesan cheese. The original recipe I got from my mother and it called for a bottle of clam juice – which I seldom use. If it needs a little extra moisture I pour in a little chicken stock or a little bit of dry white wine.
Heat a pot full of water and boil gluten-free linguini.   I use Quinoa pasta as it has a nice flavor. Follow directions on packet, being careful not to overdo the pasta. Drain, stir in about ¼ cup olive oil.
In a large fry-pan add and sauté:
½ stick of butter
1 – 2 large cloves of garlic (depending upon your taste), chopped – If you are short on time use garlic powder, but the taste is so much better with fresh.
Cool slightly and add:
4 cans (8 oz) chopped or minced clams including all of the liquid
Add water to each can of clams, about ¼ full, swish, and add water and any small bits of clam to the pan.
Sprinkle with 4 tablespoons of dried parsley flakes, stir until hot, but not boiling. If you overheat the clams they will become rubbery.
Add pasta to clam sauce and stir. Serve, digging down into the sauce to add plenty of clams to each serving, in bowls with a sprinkle of Parmesan cheese.
Serve with a green salad – a store bought salad often makes this meal even faster when time is short.
There is often plenty of salt in the clams and broth, and with a rich flavor from the garlic, adding salt is unnecessary.