For kids living with Juvenile Arthritis (JA), the symptoms of the disease may not be obvious to their peers. Because you cannot "see" arthritis, many kids who fight arthritis pain may feel alone and misunderstood, at the same time facing social pressures, puberty, academics, sports or activities that are constantly changing and increasing.
Thankfully, we live in a digital world, where kids can easily find support and make connections with others who suffer from arthritis.  The website kidsgetarthritistoo.com has real-life stories for kids, by kids.  Caitlyn R., who was diagnosed with JA at age 3, shares her Top 10 Pain Fighting Tips in hopes that she will help other kids battling chronic pain.  Two of her top tips – "Heat things up" and "Take a bath" – involve the use of heat therapy to manage pain.  Heat therapy is one of the oldest natural remedies for pain.
Caitlyn sometimes uses electric heating pads, but prefers the ones you heat up in the microwave because they are portable. All Maine Warmers are portable and convenient for kids on the move.  From adorable Comforting Creatures,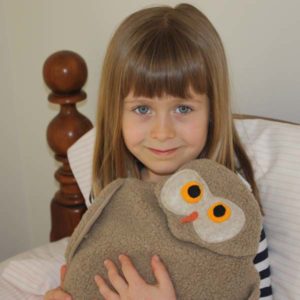 to traditional rectangular shapes, all of our warmers are microwavable and can go with you anywhere.  Caitlyn also likes a heating pad with Velcro that she can strap around her waist so others don't even notice she is "wearing it" under her clothes. Maine Warmers has a heating pad that Velcroes around the knee joint (or elbow), that kids like Caitlyn might love.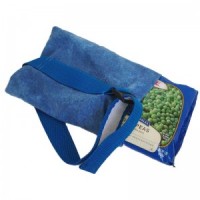 It comes with a bag of corn that can be microwaved, or frozen for gentle ice.  It also fits a bag of peas, if you choose not to use the corn.  Cold therapy reduces swelling and is another remedy for pain.