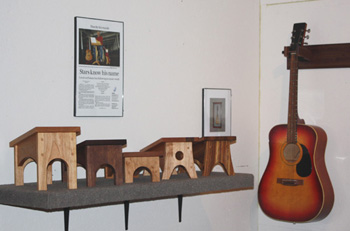 John Stass creates world class music furniture on the sixth floor of the Historic Hill Mill, a converted red brick textile mill in Lewiston, Maine. Guitar cases, violin stands, and sheet music cabinets are a few of the various pieces he designs and builds there.  He started Katahdin Studio Designs about the same time that I started Maine Warmers. He left his job and turned his hobby, his fun, and his passion into his fulltime work.
I met John at my first Chamber of Commerce meeting, over ten years ago.  My interest was piqued when I found out he had an online store. We shared ideas about the emerging world of internet marketing, web site issues, and the fact that we were both thankful to have a spouse with a day job.
Soon after meeting him, John had an open house at his studio. I rode up to the sixth floor of the huge mill building in a noisy freight elevator. He gave me a tour of his woodshop and as soon as I saw the shape, lines, materials, detail, and finish of the pieces I knew I had found a gem!
It was always a pleasure to see John's smiling face and enjoy his great sense of humor when I attended local business events.  Years later when my  husband and I moved , I lost touch with him, but often wondered how many celebrity musicians must have found him online and bought his fine woodwork.
About six years later, as I sought out a sub-contractor in the same mill building where John's shop was located, I saw a sign for his business that reminded me he was still in the building. During several trips I never had time to stop, but kept meaning to contact him. Then one day his name popped up on Facebook.  With a simple click, we reconnected.
When I asked John for permission to write a story about him for this newsletter, fortunately, he said yes. He invited me to see his new expanded shop and showroom and meet the craftsman he employs to help with production.  This time I skipped the elevator and climbed the wide industrial stairs, worn from a century of textile laborers' comings and goings.
When I asked him if he sold any of his items to celebrities he had several stories to tell.  "Someone ordered twelve pieces online!" He laughed as he told me he thought it was a fraudulent order because nobody ever orders that much all at once. I knew exactly what he meant. But a phone call from the buyer confirmed the order. After John sent the first two pieces, the woman who placed the order called back to say how pleased the customer was with the order. Then she told him it was Melissa Etheridge who was the actual buyer. A year or so later, John watched Oprah Winfrey interview Melissa Etheridge at her home. A big smile crossed his face when he told me he saw his guitar stands and other music furniture in the background during the program. "I never did speak with her directly," he said, and I detected a slight feeling of disappointment.
John quickly added that Andy Griffith has ordered several pieces and always places the call himself. "He's so easy to talk with — like talking to a neighbor," explains John with a hint of satisfaction. "I've even talked with his wife and she's just as nice." Andy Griffith has ordered fourteen pieces from John over the years, some for gifts for famous musicians.
When a Steve Miller from Idaho ordered three foot rests and three music tables online, John wondered if it was the famous musician or just someone with a fairly common name.  Later he learned that Steve Miller, of the Steve Miller Band, lives in Idaho. 
John is the kind of person who responds quickly to the needs of his customers. When Jimmy Vivino called on a Friday to order a custom piece that needed to be on site the following Thursday for the Conan O'Brien Show, John and his shop helper hustled and worked long hours over the week end. "It was delivered on Wednesday," John says proudly.
Kevin Eubanks (of the Tonight Show) ordered and introduced John to Poncho Sampedro, who played guitar with Neil Young.  Sampedro struck up a friendship with John about four or five years ago via email.  John says, grinning from ear to ear, that SamPedro sent him two tickets to a Neil Young Concert in Manchester, NH, where he enjoyed going back stage and meeting the band members, including Neil Young, after the show.
As we stood in his showroom I asked John who painted the oil paintings hanging on the walls. He explained that when he started his business, turning his play into work, he needed to find a new "playground."  He unlocked a door and we walked through a huge expanse of windows to the far corner of the partitioned space. He laughs and says, "Of course, before I started painting, I had to make the easel." As I expected, when I looked closely at the easel, I knew it was a work of art.
Check out John's music furniture. http://www.katahdin-online.com/
Also, note that he is starting a line of home office furniture.