This gluten-free version of a recipe that originally came from the New York Times Cook Book calls for shortening, but I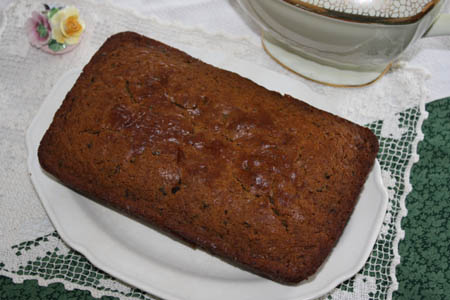 discovered all natural coconut oil works well as a replacement. When I learned shortening was loaded with trans-fats, I disregarded most recipes that call for it.
The only down side to this recipe is that it is hard to eat just one piece. If you don't like raisins or currants you might try adding a quarter of a cup of chopped walnuts instead. I do like this cake served slightly warm.
 Invite a friend for late afternoon tea, bring out a green table cloth, and celebrate St. Patrick's Day (whether or not you are Irish) with some fun conversation and this bread. If you live in warmer climates – you might serve iced-tea with fresh mint.
 Sift and set aside:
 ½ cup oat flour (gluten-free)
½ cup soy flour
½ cup sorghum flour
1 teaspoon baking soda
 I choose not to use xanthan gum as a binder when I can get away without it. If you decide this cake is a bit crumbly try adding ¾ of a teaspoon to the flour mixture.
 Cream in electric mixer:
 ½ cup coconut oil
¼ cup sugar
¼ cup molasses
 Scrape side of bowl and add 1 egg. Beat until smooth.
 Add — alternating:
 ¾ cup of buttermilk or sour milk with the flour mixture (If you do not have either ingredient, you can easily add about 1 teaspoon of cider or white vinegar to milk to sour it).
 Stir in:
 ¾ cup raisins
¾ cup currants
¼ cup citron (optional)
 Bake in preheated 325° F. oven for about 1 hour and ten minutes. Bread will be browned on top and slightly split.