On the First Friday of the month, in the arts district of Portland, Maine, people wander into open art galleries, pause on the streets to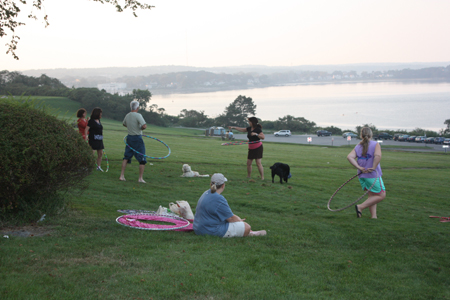 listen to musicians, browse through the tables of local crafters on the sidewalks, and swing hula hoops around their middles.
 It's First Friday Art Walk, and in front of the Portland Museum of Art — a popular spot with free admission on Friday nights — Tracy Tingley encourages people to stop and try one of her "Hardcore Hoops." The visuals are wonderful. Black hoops, decorated with colorful tape, go round and round on two or three brave people, while bunches of hoops lean against the pillars of the museum waiting for others to pick them up and join in. Tracy nonchalantly twirls one on her arm while she swings one around her core. Upbeat music plays on a boom box.
Tracy has plenty of hoops for everyone of every size to use. Kids eagerly run to try it, but most adults walk past because they don't think they can keep a hoop going around their mid-sections for more than ten or fifteen seconds.
Tracy can be found in other locations around Portland with her hoops. She sets up a canopy tent at the popular Farmers' Market in Deering Oaks on Saturday mornings and encourages people to put down their bags of veggies and hoop awhile. Hoops are scattered over the lawn, leaning against the big Oak trees, or standing against the tent posts.
One Saturday morning in August, my grandson accompanied me to the park and was immediately eager to stop and play. I tried to walk by, hoping not to be noticed. But The Hoop Lady caught my eye, smiled warmly and said, "Try it!"
"I can't," I replied, shaking my head for emphasis.
"I'll teach you in 30 seconds, and I guarantee you can do it. You can borrow one of these", she said, in her calm, confident voice, pointing to an assortment of 30 or so hoops. "Let me find one that fits you."
As promised, in 30 seconds she taught me how to keep the hoop going. It was fun and amazingly easy — for about five minutes. Then I found myself sweating and getting out of breath. It was exercise in disguise.
Tracy explains that her hoops are weighted with water, making it easier to keep them going. She makes the hoops herself with black plumber's piping, decorates them with colorful tape, and sells them online (see her Web site below) or at any of the many venues she attends. She carries them around town on the roof of her car, and sells them to anyone who she happens to meet on the street and wants one. There is no high pressure sales pitch.
Tracy is happy to talk about the benefits of hooping. "When someone can't exercise because any form of impact exercise will cause them pain, they soon gain weight and become terribly discouraged. Hooping is a good all around exercise that improves core strength (thus the name, "Hardcore Hoops"), provides cardio, stimulates circulation, and creates energy flow. Hooping, most importantly, is fun. It's a great exercise for people who have had knee or hip replacements. Physical exercise is known to reduce stress, pump up endorphins, and contribute to weight loss."
When I asked her how she got into hooping she graciously gave me some of her history. At age eighteen she went to work, summers, at Disney World expecting to be hired as Cinderella. "Instead they put me in a Goofy costume," she recalls. As it turns out, Fantasy Land was not her life's calling, and after six years she switched to what she thought would be a more grounded profession in the financial world. Disheartened by the the dishonesty that resulted in the 2008 economic catastrophe, she started Hardcore Hoops. Her sister, who lives in Bend, Oregon, sparked her interest. It seems that the West Coast folks are way ahead of East Coast folks in the hooping arena.
Want to join the fun? At 6 PM on Wednesday evenings in the spring and summer, a group of people gather to "hoop it up" on the spacious green lawn of the Eastern Promenade overlooking Casco Bay. It's free. Tracy provides music and hoops. Some people take their own hoops or borrow one of hers. Don't worry if you think you can't. She'll teach you in 30 seconds.
If you don't live near Portland, Maine, ask around to see if anyone is "hooping it up" in your town or start your own hoop group!