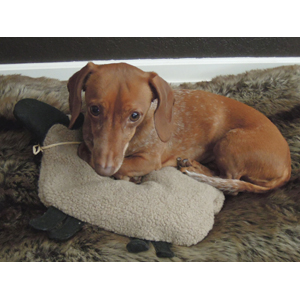 Pets need comfort when they are ailing. Dogs and cats suffer from arthritis, colds, sprains, strains, and fractures just like humans. After surgery they need time to recover, and a heating pad might help them feel better psychologically as well as physically.
Heat helps improve circulation and promote flexibility. It also relaxes stiff muscles. A microwave heating pad from Maine Warmers is washable, reusable, portable, and safe (no worry of overheating as with electric heating pads).
Dogs and cats also get cold in the winter and welcome and opportunity to warm up, especially when your lap is not available to them.
Please note that some dogs think corn-filled heating pads are meant to eat because they smell a bit like a bowl of popcorn.
Our extra large back warmer makes a perfect bed for a small dog or cat.