I think of this recipe in the spring and fall – the transition months. In the spring I have been souped and stewed out; by September I have had it with summer salads but still want to enjoy the beautiful array of veggies found among the weeds in my garden or more often at the local Farmers' Market. This recipe offers both fresh colorful veggies with limited cooking time. Most of the prep includes chopping. All of the ingredients can be chopped ahead of time and stored in the refrigerator until cooking time. Or just cook the chicken and use one of those frozen bags of pre-chopped, stir-fry veggies found in the grocery store. If anybody asks, don't tell.
2 – 3 tablespoons olive oil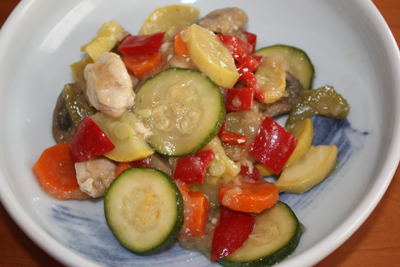 3 – 4 pieces of skinless, boneless chicken breasts (1 ½ – 2 full chicken breasts), cut into bite sized pieces
1 cup hearty chicken broth (low salt) – more or less according to how thick you want the liquid (A bouillon cube in some boiling water will do, although it may be very high in sodium, and you should check to make sure it does not contain gluten).
2 tablespoons cornstarch
Pinch of salt
Pepper to taste
1 -2 tablespoons extra virgin olive oil
1 small tender summer squash, sliced thin
1 small tender zucchini, sliced thin
1 sweet red pepper, chopped
Sauté the summer squash, zucchini, and red pepper. Continue sautéing for 1 – 2 minutes so the veggies are still a bit crisp. Pour into heat resistant bowl, cover with foil, and set aside.
Wipe out the fry pan. Add 2 – 3 tablespoons of olive oil and heat on high until hot, then add the chicken and cook stirring until browned. You may have to sauté the chicken in a couple of batches. Sometimes I don't have the patience or time to do this so the chicken does not brown, but it cooks and still tastes fine. Cook, stirring for about 3 – 4 minutes until the chicken is no longer pink on the outside. Add the scallions, celery, mushrooms and carrots, stirring and cooking a few more minutes until scallions are limp.
Add the broth, cornstarch, salt, and pepper. Lower the heat to medium low and stir constantly until the liquid has thickened to the consistency of thick soup. Add more broth if necessary to achieve the desired thickness.
Simmer on low heat for about 10 minutes or just until the chicken has cooked thoroughly, then add the veggies, stir, and heat just until hot. Serve hot in bowls or over rice.