I love this recipe because it is versatile and can be made with other white fish other than Haddock. Add zucchini, summer squash, or peppers to the topping or use spinach or kale for the base.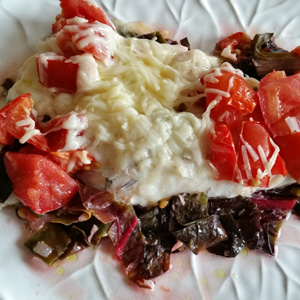 2 pounds of Haddock or other similar whitefish
10 – 12 large leaves of Swiss Chard washed and cup into bite sized pieces (or spinach)
2 tablespoons olive oil
2 tablespoons lemon juice
Garlic powder (optional)
2 – 3 fresh tomatoes cut into bite sized pieces
2 tablespoons of fresh oregano finely chopped (1 tablespoon dried)
Sea salt and pepper to taste
1 cup grated Parmesan cheese
Spread olive oil in large baking pan. Place Swiss Chard evenly on top of oil then place fish filets on top of the chard. Drizzle lemon juice on top of fish then sprinkle with a bit of garlic powder to taste. Top with tomatoes, salt and pepper, then Parmesan cheese.
Bake at 400° F for 15 minutes or just until the fish begins to flake.
Serves 4 – 6