This easy guacamole can be partially prepared ahead to save time, so all you have to do is mash the avocado right before serving. It's a popular appetizer with chips and veggies, but I also like to serve it as a topping for fish and shrimp. Of course, it's a guarantee on Taco Tuesdays!
Step 1 — Make the salsa: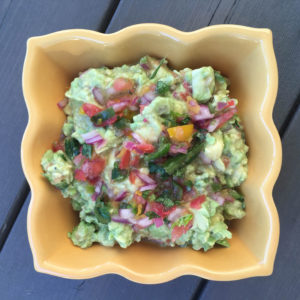 1 ripe plum tomato, seeded and chopped
1 fresh jalapeno, seeded and finely chopped
1/4 of a yellow or orange pepper, seeded and finely chopped
1/4 cup fresh cilantro, chopped
2 tbsp. red onion, finely chopped
1/2 tsp. kosher salt
juice of one lime
3-4 dashes of hot sauce ( I use Frank's Red Hot)
Mix above ingredients and set aside at room temperature until you are ready to add the avocado. Refrigerate if not adding avocado until the next day.
Step 2 — Right before serving:
Mash 2 ripe avocados in a medium bowl.  Gently fold in the above salsa, reserving a little salsa to use as a garnish.
Transfer to a festive serving bowl and place the remaining salsa on top. So fresh and colorful!
Enjoy!