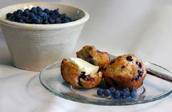 This recipe was given to me 35 years ago by a friend and has been a favorite ever since. I adapted it to make it gluten free by changing the all-purpose flour to a combination of rice and sorghum flours. Sorghum flour is made from sugar cane, is sweet, and adds a nice flavor. I have also used garbanzo bean flour in this recipe, and think you could use any combination of GF flours. If you don't tell, no one would know!
Beat together in electric mixer (or by hand):
1 cup sugar (Original recipe called for 1¼ cups).
½ cup butter (1 stick) softened
2 eggs
Add & Mix:
½ cup milk
Sift together:
¾ cup brown rice flour
¾ cup white rice flour
¼ cup sorghum flour
Pinch of salt
½ teaspoon cinnamon
½ teaspoon Zanthan Gum (a binder found in the gluten free section  of most grocery stores)
2 teaspoons baking powder
Add sifted ingredients to mixing bowl and stir until moistened.
Add 2 cups of fresh or frozen blueberries. Stir gently until combined well.
Divide into greased muffin cups and bake at 375° for 20 – 25 minutes or until browned and spring back when touched. Cool 10 minutes and remove from muffin cups. Serve immediately or cool and cover. They will keep a day or two but may be wrapped and frozen when completely cool.