It's apple picking season!  This Gluten-free Apple Baked Oatmeal can be eaten for breakfast, as a hearty snack, or even as dessert when served with vanilla ice cream.
Preheat oven to 350 degrees.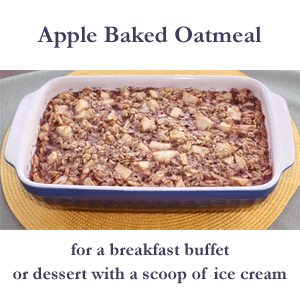 1/3 cup butter
1 cup brown sugar
2 large eggs
1 1/2  tsp vanilla
1 tsp cinnamon
1 1/2 tsp baking powder
¼ tsp salt
2 1/2 cups gluten-free oats
3 apples, peeled and diced
1 1/4 cup milk
Optional: add ½ cup raisins or nuts like pecans or walnuts
In a large microwave safe mixing bowl, melt the butter. Add the brown sugar, eggs, vanilla, cinnamon, baking powder and salt and mix well.
Fold in the oats and apples.  Add raisins and nuts, if desired.
Stir in the milk.
Pour into a greased 11 x 7 baking dish and bake for 35-40 minutes, or until firm and golden on top.
Serve warm.