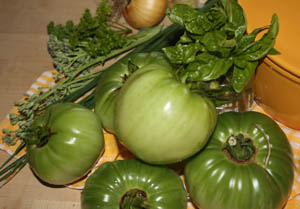 If your garden is overflowing with green tomatoes and you are not sure if they will all ripen on the vine, you will find they are delicious baked. I adapted this recipe to make it gluten free, from one I found in a French cook book, FROM A BRETON GARDEN, by Josephine Araldo and Robert Reynolds, Aris Books, 1990. Terrine of Green Tomatoes, p 255
This dish is wonderful served with poultry or fish, potatoes, and green salad. Adjust the herbs to whatever is growing fresh in your garden. I keep the salt to a minimum, often omitting it when several herbs provide flavoring. Serves 4 – 6
Ingredients
3 Tablespoons butter
¼ Teaspoon curry powder
1 Teaspoon dried tarragon or 2 Tablespoons of fresh tarragon
1 Teaspoon fennel seeds
1/8 Teaspoon salt (omit if using bouillon).
4- 5 Small to medium onions peeled and sliced
½ Cup chicken stock (low salt) or bouillon
½ – ¾ Cup light cream
A sprinkle of red pepper to taste (optional)
3 – 4 large green tomatoes, cored and sliced in ½ inch rounds
½ cup ground cornmeal
1 cup grated parmesan cheese
¼ cup chopped fresh chives
1 Tablespoon fresh basil or oregano
To prepare:
Melt 2 – 3 Tablespoons butter in fry pan. Sauté onions over medium high until limp. Add curry, tarragon, fennel, and a sprinkle of salt. Stir until well mixed for two minutes. Add chicken stock and cook for 5 – 6 minutes or until onions are soft. Remove from heat, add ½ cup cream and red pepper, and set aside.
Mix the cornmeal and grated cheese in small bowl. Set aside
Chop or cut chives and basil into small bowl. Set aside
Butter an oven proof dish. (I use a 6" diameter tall casserole dish).
Layer half the onion mixture in the bottom of the dish.
Sprinkle a third of the breadcrumb mixture over the onions.
Layer half the tomatoes on top of the breadcrumbs.
Sprinkle with half the chopped chives and basil.
Sprinkle with one third bread crumbs.
Layer with 2nd half of tomatoes.
Spread remaining onion mixture & drizzle a ¼ cup cream over the top.
Top with remaining bread crumbs.
Dot with small pieces of butter – 1 Tablespoon in all.
Cover & bake at 350 degrees F. for 30 minutes. Uncover and cook 10 more minutes.