This is a festive and  delicious dessert with some redeeming nutritional value. Enjoy!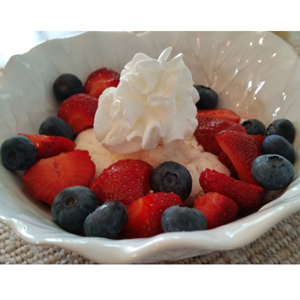 Preheat oven to 225° F
5 egg whites, at room temperature
1 cup sugar
¼ teaspoon cream of tartar
1/8 teaspoon salt
1 teaspoon vanilla
To make the meringue:
Beat the egg whites until frothy, add the salt and cream of tartar, sugar, vanilla and continue beating until stiff peaks form. Batter will be glossy.
Line a baking sheet with waxed paper. Drop by spoon onto waxed paper. Makes eight to ten meringues.
Bake for 1 hour. Turn oven off and let cool in oven for about 15 to 30 minutes.. Remove meringues gently while they are still warm. Allow to cool to room temperature. Store in an air tight tin until ready to use.
Wash and cut up 1 quart of strawberries, and one pint of blueberries. Place one meringue on a plate or in a bowl. Spoon strawberries around the base of the meringue, Add blueberries, and top with whipped cream. Cabot makes a gluten-free whipped cream.
Serves about 8.