There is nothing like a foot soak to rejuvenate sore, tired feet.  Several foot soaks are available in stores or online, or you can make your own easily with Epsom Salts. Sprinkle a few tablespoons into some warm water and dissolve in a basin that is large enough for your feet to fit in comfortably. Then soak your feet for 10 to 20 minutes. Other foot soaks include vinegar, ginger, Listerine & vinegar, essential oils, peppermint, lavender, and I am sure many more.
As mentioned on Livestrong.com, Epsom Salts soaks are recommended for no more than 2 – 3 times per week, so your feet will not dry out. Heat also helps relax sore feet and the magnesium sulfate found in Epsom Salts, I have read, is an important mineral that can be absorbed through the skin. It is said to help bodily functions and "plays a role in joint proteins and in the formation of brain tissue." ( HowStuffWorks.com, Epsom Salt Bath Treatments, by Christina Pander)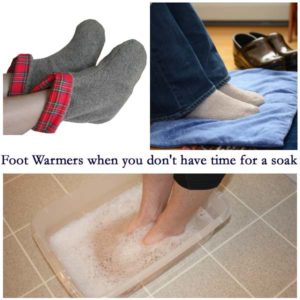 I think any foot soak, even using just warm water, will relax foot muscles. Medical professionals recommend heat to relax tense muscles.  You may soak your feet in ocean water, but it is not the same as a foot soak because the beach water, especially in Maine, is ice cold. On a hot day, it is refreshing, but nothing relaxes feet like heat.
When soaking your feet is not an option, you can use a Maine Warmers' microwave foot heating pad or use a pair of Foot Warmers to relax your feet. It is much easier, quicker, and less messy than a soak only with the same soothing feeling. Whatever method you choose, nothing relaxes and soothes feet like heat therapy.