This cake is a delight, not just for the flavor, but because it holds together, unlike many gluten-free cakes, when cut. There is no need for frosting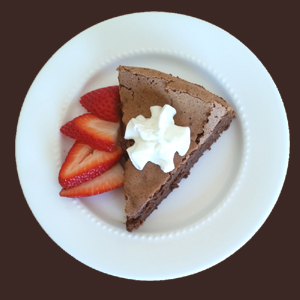 but a few strawberries and/or some whipped cream add texture and color and should earn you some oohs and ahs.
Flourless Chocolate Cake
¾ cup ground almond meal
½ teaspoon cinnamon (optional)
Sprinkle of salt
¾ cup granulated sugar
1/3 cup butter
1 cup semi-sweet chocolate chips
6 egg whites
6 egg yolks
1 teaspoon Vanilla extract
Preheat oven to 350° F.
Grease the bottom only of a 9 or 10 inch spring form pan, line it with parchment paper and grease or spray the top of the paper.
Mix the ground almond meal with 1/4 cup of sugar, cinnamon (if desired) and a pinch of salt. Set aside.
Microwave the butter and chocolate on high at 30 second intervals. I use a 2 cup Pyrex measuring cup.  Stir well until smooth.
In a large bowl, beat the egg yolks with 1/2 cup sugar and vanilla until well mixed (about 20 – 30 seconds), and then stir in the chocolate and butter mixture.
With the electric beater (with cleaned beaters) whip the egg whites until very stiff. Fold the egg whites into the chocolate batter using a rubber spatula until there are no white streaks.
Pour into the spring form pan.  Bake for 30 to 35 minutes. Cool in the pan. Remove the side of the pan and enjoy!