Pile your children, teens, adults, and seniors into the car and drive to the Coastal Maine Botanical Gardens where you can all enjoy the impressive
displays of flowers, shrubs, trees, herbs, veggies, fruits, and more. The Children's Garden will keep your young ones, seniors, and you entertained, but make sure to take them beyond this garden through all of the others. They won't want to leave, but tell them you'll stop back at the Children's Garden once more at the end of your visit.
A little discussion ahead of time about how plants are used — in all sorts of manufactured items (cotton, linen, ropes, and more), of course as foods, medicines, and to beautify spaces — will help make the trip more meaningful to all of you. As you follow the garden paths you will see unique presentations of growing fruits and veggies.
The paths leading down to Back River offer shade and several unique gardens. You might ask your guests to think about which of the gardens is their favorite and why. The meditation gardens are unique and may not be what one imagines as a traditional garden and offers food for other discussions. Checkout the stonescapes and ask how these contribute to the overall effect of the gardens. What would it look like if the stones were not arranged as they are.
As you make your way along the wooded paths, be sure to stop at the gazebo and maybe pull out a surprise snack for everyone. No snack? Check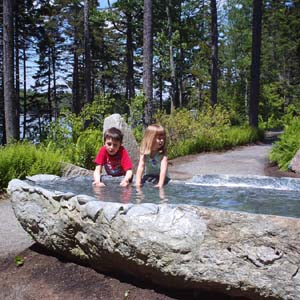 out the pretty café near the visitors center on your return. Relax and enjoy the view and your company. Take time to talk about what they have seen and what they would like to see once more in the main part of the garden. Most likely it will be the Children's Garden. One of the nice things about this wonderful garden is that it changes throughout the spring and summer months, offering new and different blooms each time you go.
Count the number of different butterflies and birds that grace these gardens. You might take a butterfly book with you to see how many you can name.
For seniors who may need assistance, golf cart tours are available but must be reserved a week ahead. (207) 633-4333, Monday through Friday at 9:30 a.m. and 3:30 p.m.  There are free (with paid admission) Accessible Cart Tours every Wednesday at both 9:30 a.m. and at 3:30 p.m., from May through October 31. Scooters may also be rented, and there are a few wheelchairs available for loan at no charge on a first come first serve basis.
If you are looking for a gift from Maine, there is a lovely gift shop. Or you might consider a fun and functional gift of warmth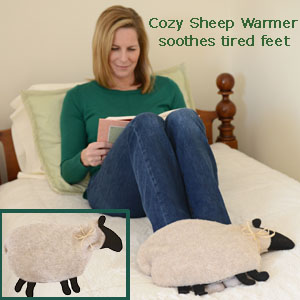 and comfort. A unique and whimsical Cozy Sheep soothes sore, tired feet after hiking along the garden paths at this lovely place or after working in your own garden. This Sheep is a microwave heating pad that gently relaxes muscles and brings welcome relief. It is made in Maine and is available online at Maine Warmers or in gift stores throughout Maine.