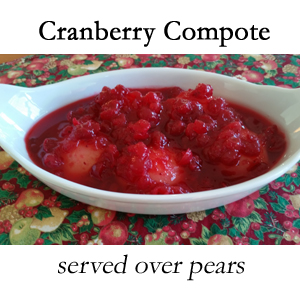 Make ahead and spoon this colorful cranberry compote over canned pears for an easy accompaniment to brunch or dinner, instead of a fruit salad. To turn it into a dessert, top it with a bit of whipped cream. Or use it as a topping over vanilla ice cream or frozen yogurt. It freezes well, so you can make it ahead and have it ready for entertaining.
2 cups of fresh cranberries
1 cup water
½ cup apple cider
½ cup sugar
1 cinnamon stick
Add all ingredients to a small sauce pan and stir until well blended. Turn heat to high and bring to a boil, then reduce heat and let simmer until the cranberries open — about 3–5 minutes. Turn the heat off and let stand on the burner until cool. Remove the cinnamon stick, place in a covered bowl or other storage container, and refrigerate until ready to use.
Drain a can of pairs and place in individual small bowls or one larger serving dish. You may use baked fresh pears instead of canned. Spoon compote over pears and serve — warm or cold.