The fresh herbs in this salad add flavor without adding salt, making it a wonderful summer salad for those who need to watch salt intake. Serve it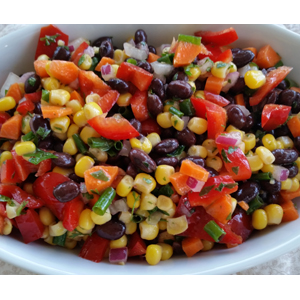 for lunch or to accompany a fish or chicken dinner.
1 (14 oz) can corn (low salt)
1 can black beans (reduced salt), rinsed
1 red bell pepper, cored, seeded, & chopped
1 carrot peeled and finely chopped
¼ cup red onion, finely chopped
½ cup chopped chives
¼ – ½ cup fresh cilantro or parsley, finely chopped
Combine all ingredients in a mixing bowl and stir well. You can add ½ – 1 cup leftover veggies such as cooked green beans if desired.
Dressing
Mix in a measuring cup and pour over salad.
Juice from 2 limes or about 5 – 6 tablespoons
4 – 5 tablespoons olive oil
½ teaspoon cumin (or to taste)
Black pepper to taste
Pinch of Cayenne pepper (optional)
Mix well & let refrigerate a few hours or overnight. Will keep refrigerated for about 5 days.