This smoothie is quick, easy, and perfect for a summer breakfast. Combine it with a bowl of fresh fruit and a piece of whole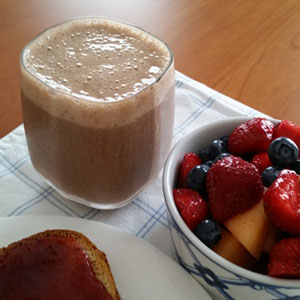 grain gluten-free toast and you have a delicious, nutritious meal. It's full of protein, calcium, and potassium.
I would never have known that tofu was in this smoothie if I had not made it myself.
Place ingredients in a blender in this order and blend for 30 seconds.
2 cups of skim milk
½ cup of Silken or soft tofu
3 bananas, peeled and broken into pieces
1- 2 tablespoons of chocolate syrup or powdered cocoa mix (I used Ghirardhelli hot cocoa mix). Make sure it is gluten-free unless that is not an issue.
2 ice cubes (optional)
I only use ice if we are going to drink this right away. Otherwise, I place the blended ingredients in the refrigerator for an hour or two. This will keep refrigerated for about 3 days.