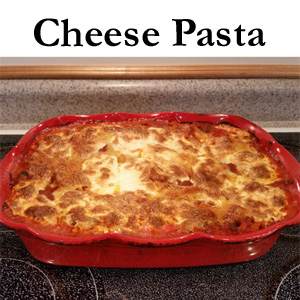 This recipe is much easier to make than lasagna. My sister-in-law, Betsy, served this recently and I was so impressed I asked her if I might share it in this newsletter. She graciously said, "Yes. A recipe from my dear friend Andrea, who had three teenagers to feed. This was one of their favorite dinners."
She also says, "I make two casseroles with this recipe — one to eat and one to freeze for a no-cook meal another time."
1 pound of ground turkey or lean beef
1 medium onion, chopped
1 large clove of garlic or powdered garlic to taste
1 16 ounce jar of your favorite spaghetti sauce (gluten-free)
1 12 ounce can of Italian chopped tomatoes
½ cup water
½ cup wine (optional)
6-8 ounces sliced mushrooms
1 pint sour cream (gluten-free) Most brands of sour cream are gluten-free, but check the label, especially for of the non-fat or low fat versions.
6 – 8 slices provolone cheese
8 – 12 ounces of mozzarella cheese (shredded or fresh)
12 ounces gluten-free medium pasta shells (3/4 of a 16 ounce package) or other type of pasta
Optional:
Finely chopped fresh herbs optional): oregano, basil, parsley
Sauté the meat, onion, mushrooms, & garlic in a large fry pan. Add chopped Italian tomatoes, spaghetti sauce, water, wine, and herbs.
Spread out half of the uncooked pasta in a large casserole dish (at least 9" x 12"). You may pre-cook the pasta if you prefer. I find gluten-free pasta cooks so quickly that it holds together better if it is not pre-cooked. I added the water and wine to this recipe for a bit more moisture to cook the pasta.
Cover with half of the sauce, then dot with all of the sour cream. Layer half the provolone cheese on top. Add another layer of pasta shells, cover with remaining provolone, and then meat sauce.  Sprinkle shredded mozzarella evenly over the top. Or slice fresh mozzarella and place evenly on top. It will melt together.
Bake at 400 degrees for 45 minutes or until hot and bubbling.