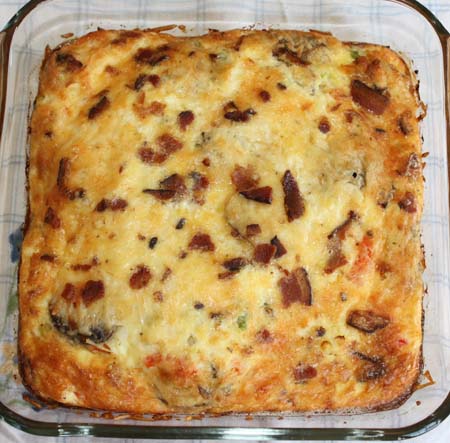 My mother gave me this recipe several years ago, and the reactions have always been complimentary. I have often doubled the recipe for a brunch crowd. Serve it with a fruit salad and some corn muffins or blueberry muffins for a simple but elegant breakfast buffet.
Combine & whisk together in a medium bowl:
6 eggs
1 cup milk
2 scallions, chopped well
1/2 cup red pepper, chopped (optional)
1/2 cup mushrooms, sliced (optional)
2 tablespoons melted butter
Sprinkle of salt & pepper
Pour into glass or pottery 9" x 9" greased baking dish.
Sprinkle over the top:
1 cup grated cheddar cheese (I have used many combinations of cheeses, depending upon what is in the refrigerator at the time).
2 slices of crisp bacon, crumbled
Bake at 400° in preheated oven for 25 – 30 minutes, until the eggs have risen in the center and the top is lightly browned. Let cool for 5 minutes. Eggs will fall and frittata will flatten out.