This Bunny Warmer Giveaway will help you celebrate Easter and the coming of Spring with an adorable, functional, Maine-made product!  With winter almost behind us, it's still chilly and the soothing warmth of this microwave heating pad will help.  The removable cover washes and wears well, so no fear of the white fabric getting dirty.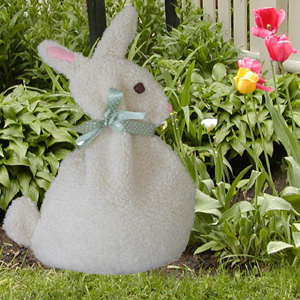 The Bunny Warmer Giveaway will begin on Thursday, March 12th.
For a chance to win:
1. Go to the Maine Warmers Facebook page and "Follow" us and your name will go into the drawing.
2. If you're already following us, look for the Bunny Giveaway Post and hit "Share" and your name will go into the drawing again.
Winner will be announced Thursday, March 19th.
3-19-15  Congratulations to the winner, John Herman!