Baseball players and fans ~ don't miss this giveaway! Our Baseball Print Back Warmer Giveaway will help you slide right into Opening Day with a super cozy, plush, Maine-made microwave heating pad! The fabric is so beautiful ~ any photo we take simply doesn't do it justice.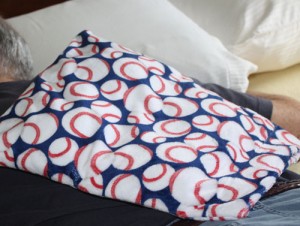 This awesome microwave back warmer relieves stiff back muscles without the need for electric wires or mess of hot water bottles. Heat stimulates circulation and improves flexibility. Use it to relax muscle spasms and cramps or to warm cold hands and feet.  When frozen, it can be used as a gentle ice pack or for cooling off on a hot day.
Giveaway will begin on Thursday, March 26th.
For a chance to win:
1. Go to the Maine Warmers Facebook page and "Follow" us and your name will go into the drawing.
2. If you're already following us, look for the Baseball Back Warmer Giveaway Post and hit "Share" and your name will go into the drawing again.
Winner will be announced Thursday, April 2nd.
4-2-15 Congratulations to our winner, Karen Oxner!