Here's the perfect gift for a baseball player or fan.  Our Baseball Back Warmer fabric is so plush ~ any photo we take doesn't do it justice.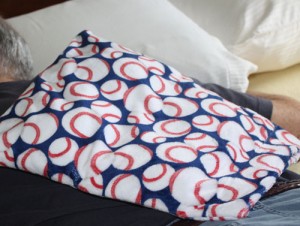 This versatile microwave back warmer relieves stiff back muscles without the need for electric wires or mess of hot water bottles. Heat stimulates circulation and improves flexibility. Use it to relax muscle spasms or simply to warm body, hands and feet.  When frozen, it can be used as a gentle ice pack.
For a chance to win:
1. Go to the Maine Warmers Facebook page and "Follow" us and your name will go into the drawing.
2. Like or comment on the Baseball Back Warmer Giveaway Post and your name will go into the drawing again.
Winner will be announced Tuesday, December 15th.
Congratulations to Sheila Mulki! 12-15-15