These are a family favorite with the sweet flavors of blueberries and bananas making up for reduced sugar. The original recipe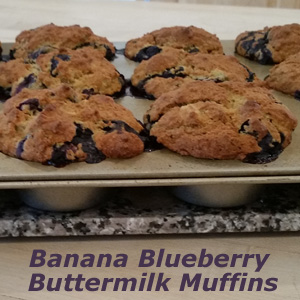 called for a cup of sugar.
The bananas, eggs and tapioca starch in these muffins help bind the flours together. I find Xanthan gum has a strange taste, so I avoid using it when possible.
Spray or grease the bottom a muffin tin (12). Preheat oven to 400° F.
Recipe
½ cup coconut oil, melted & cooled slightly
½ cup sugar (You may reduce to 1/3 cup or use honey)
2 eggs
1 teaspoon of vanilla extract (gluten-free)
¾ cup buttermilk, or other milk
In a large bowl, whisk the sugar and coconut oil with a fork, add eggs and whisk until slightly frothy.  Add vanilla and milk and whisk until well-combined.
Mix or sift in medium bowl:
1 cup oat flour (gluten-free)
½ cup coconut or sorghum flour
½ cup tapioca starch
½ cup corn flour or brown rice flour
1 teaspoon baking soda
1 teaspoon baking powder
Add flours to wet ingredients.
Mash 2 soft bananas and stir gently into batter. Wash & dry 2 cups of fresh blueberries or use frozen. Gently fold into mixture.
Spoon into muffin tins, and bake at 400° F for 20 – 30 minutes or until well browned on top. Let cool for 15 minutes then remove from tins with a thin spatula.