Wash and dry 4 ripe pears. Cut in half and remove the cores with a sharp paring knife. Place the pear halves cut side down in a 9" x 12" glass or pottery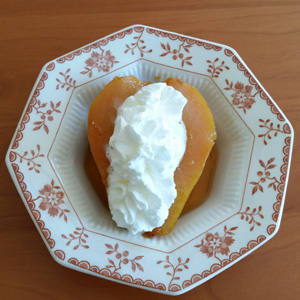 baking pan. Do not use a metal pan.
Mix in a small sauce pan and bring to a boil. Simmer for 5 minutes, then pour over the pears.
1 cup of water
½ cup sugar
1/3 cup apricot preserves
3 tablespoons of lemon juice
Bake uncovered for 45 minutes at 325 degrees F, and if you want, baste the pears with the juice in the glass pan every ten to fifteen minutes.
Let cool slightly and serve warm with a a few spoonfuls of the juice from the pan and whipped cream. Store leftovers in refrigerator and warm individual servings in the microwave as desired.
Serves 4 – 8